Fresher, worry-free drinking water straight from your Lompoc home tap from the most advanced reverse osmosis filtration systems.
Taste the RO difference, and feel better about the water your family drinks and uses, every day
Untreated water can be unpleasant to drink — whether there's a noticeable taste from dissolved minerals, or a chlorine smell leftover from treatment chemicals, it doesn't take much to make tap water unpalatable.
Lompoc Tap Water
In and around Lompoc, the biggest problems with drinking water generally stem from issues with the surface water supply. Depending on the season and the climate, surface water can require extra treatment to make sure it's safe to drink, and this process can often leave your water tasting less than its best.
There are also many minerals and impurities that municipal treatment doesn't remove, or doesn't completely remove. Some of these include potentially harmful contaminants like lead, hexavalent chromium (chromium-6), arsenic, and others.
Because Lompoc uses a surface water system for most of the city, with the exception of a few wells to supplement supply here and there, there's typically a greater risk of contamination because water doesn't pass through a natural filtration system the way groundwater does.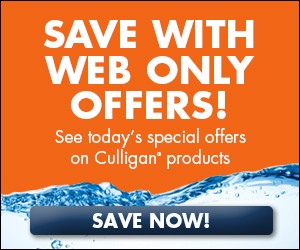 Reverse Osmosis Water Filter Systems
The best way to ensure your drinking water is always fresh and safe is to use a multi-stage filter like the one in our Culligan® Aqua-Cleer® Advanced Drinking Water System.
Reverse osmosis filtration is one of the best ways to remove added minerals like calcium, treatment chemicals like chlorine, and it's proven to remove harmful contaminants common in municipal water like lead, radium, aesthetic chlorine, hexavalent chromium (chromium-6), and arsenic.
RO filtration is customized for the Lompoc water supply, so you get the best-tasting results for your home's water. From bad tastes to off-putting odors, RO can solve your drinking water problems while saving you money on single-use water bottles or expensive cartridges.
Culligan's Reverse Osmosis systems also come in a variety of modern and timeless designs and finishes, so fresher water fits into your kitchen more easily than ever.
Learn more about the home benefits of a Culligan® Culligan® Aqua-Cleer® Advanced Drinking Water System!
RO System Highlights
---
Multi-stage, customized filtration, right in your kitchen.
Complete installation and servicing from your Culligan Man for hassle-free maintenance.
Compact, space-saving designs match all kinds of kitchens and configurations.
Targeted filtration removes harmful water contaminants like chlorine, lead, chromium-6, radium, and arsenic, for greater peace of mind.
Available mineral boost cartridges can add beneficial minerals back into Lompoc water for great tasting, pH balanced water, that's great for you.
Culligan of Lompoc always professionally installs your Reverse Osmosis System and provides routine maintenance to maximize its efficiency. We're with you every step of the way to better water, simply and easily.
Culligan Reverse Osmosis System Product Overview
---
Water quality can differ from town to town and even within the same municipality. With this in mind, Culligan developed the innovative under-the-sink Culligan Aqua-Cleer®, one of our most advanced filtration systems ever. The Aqua-Cleer utilizes a wide range of specialized filtration cartridges to tailor the water treatment process to your individual home's water and the contaminants that may be in it. This allows you to experience the enhanced taste and performance of Culligan's smart water filtration. It's like have a bottled water company under your sink!
Product Specifications
---
Thirteen advanced filter options provide comprehensive filtration for water problems such as lead, radium, chlorine, and arsenic.
Maintenance-free design handled by your Culligan Service Technician who takes care of everything including installation, filter changes, and filter disposal.
Designer faucets available in a variety of styles, colors, and finishes to match your kitchen.
Large-capacity, high-quality reservoir tanks ensure you always have plenty of Culligan drinking water available.
Space-saving, streamlined design so the Aqua-Cleer® System can be conveniently installed in a variety of locations.
Quality monitoring with an exclusive electronic monitor that ensures your system is working properly.
*contaminants may not be in your water
Frequently Asked Questions about Culligan Reverse Osmosis Systems
---
I have heard a lot about Chromium 6 in drinking water in the news. What is Chromium 6 and can Culligan equipment filter out Chromium 6?
Yes, chromium six (or hexavalent chromium) has recently been discovered in limited amounts in some water supplies. Chromium six is suspected of being a carcinogen, and should not be ingested at amounts above the federally mandated limits. We have never been alarmists, but if you are concerned about the quality of the water you drink, you might want to consider a reverse osmosis system. Reverse Osmosis is the only readily available system that removes up to 97% of chromium six.
What is Reverse Osmosis (R.O.)?
Reverse osmosis is a sophisticated multi-stage filtration system that is capable of removing up to 97% of all the dissolved minerals from your water. It is designed to make water that is at least as good as the water you buy in bottles. Many times, it's even better. This reduces waste in landfills by using less bottled water, making reverse osmosis environmentally friendly.
Is Reverse Osmosis water really as good as bottled?
Yes - The system uses multiple processes including Reverse Osmosis to make great tasting, low sodium drinking water. Reverse Osmosis removes about 97% of the TDS (Total Dissolved Solids) including salt and sodium from the water. Read the labels on bottled water and you will discover Reverse Osmosis is the same process used by most bottlers ... so in effect ... you really are getting ... "bottled water ... without the bottle".
I already have a filter in my refrigerator? Why do I need anything else?
Refrigerator filters are typically just carbon, and while carbon filtered water is better than no treatment at all, it is limited in what it can remove. Only reverse osmosis is capable of removing dissolved minerals and chemicals from your water.